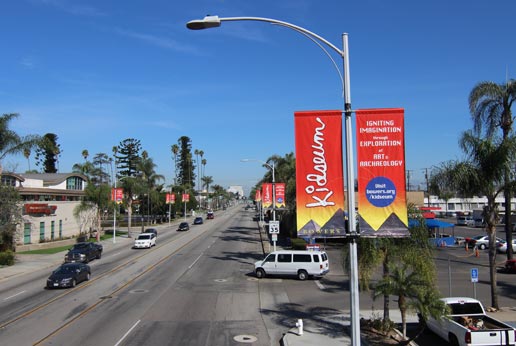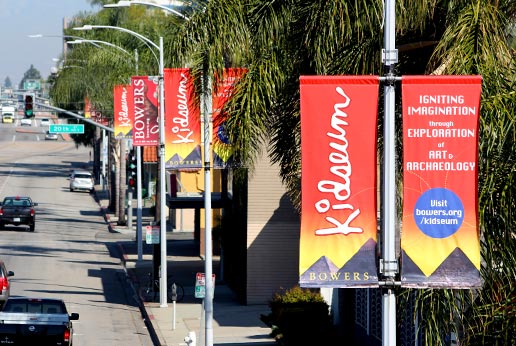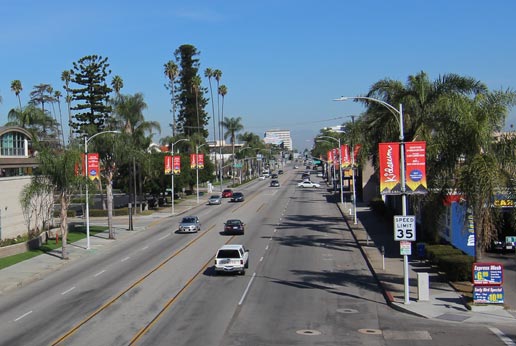 City Light Pole Banners promote interactive children's museum and learning center
Bowers Museum was looking for a way to promote the recently re-done Kidseum to the public and what better way than City Light Pole Banners? The Kidseum is located on a busy street just a few blocks from the main museum, a major shopping mall and another well known Children's attraction. It is truly interactive and children have opportunities to play and participate in craft projects. Light pole banners bring attention to this wonderful children's museum.
About the Kidseum
Founded in 1994, Bowers Kidseum, both an interactive children's museum and learning center, serves as an extension of the main Bowers Museum, offering multi-faceted art and cultural experiences for young children, their families and the community. Primarily dedicated to the pre-school and early elementary age, Kidseum's central focus is providing a 'hands-on' experience in keeping with the museum's mission to "enrich lives through the world's finest arts and cultures."
Mission: Igniting Imagination through the Exploration of Art and Archaeology.
Focus: Kidseum focuses on engaging children in an academically rich and developmentally appropriate environment where they can experience history, art, and culture. As the only cultural art-based children's center in Orange County, Kidseum is on the forefront of children's art education. While focusing on the beauty and meaning behind art and traditions, the center provides children with avenues for creativity, communication, and learning. Each year, KIDSEUM engages over 35,000 Orange County children through a variety of programs, including exhibits, family festivals, museum tours, art classes, school outreach programs, cultural art trunks, creative projects, storytelling, curriculum materials and artifacts.
For more information on the Bowers Museum, click here.