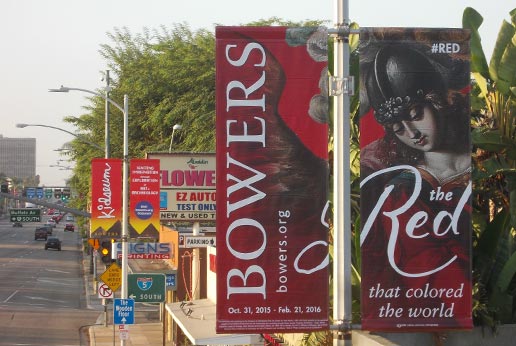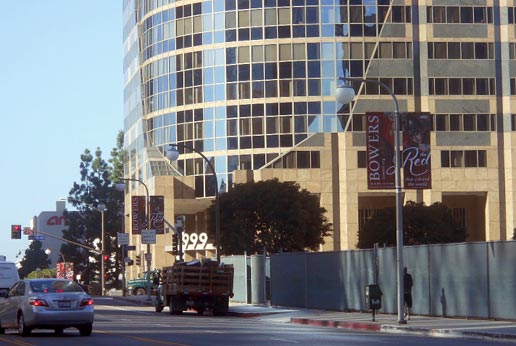 City Light Pole Banners promoting 'The Red that Colored the World'
Elegantly designed banners line the streets of the City of Los Angeles to promote this captivating exhibition at the Bowers Museum.
About the Exhibition: October 31, 2015- February 21, 2016
Red, with its brilliant hue and broad cultural history, has inspired artists' imaginations and seduced viewers for millennia. Artists and dyers for centuries strived to find the color source to rival the best reds of nature, and to express the spirit, symbolism and sustenance of life.
Their quest ended in the Aztec marketplace of 16th-century Mexico, where Spanish explorers encountered the American cochineal bug. The Red that Colored the World translates the cochineal story into three dimensions, following the precious bug juice and its use in art from Mexico to Europe to the U.S. and beyond. Highlighting over 100 objects-textiles, sculpture, paintings, manuscripts, decorative arts, clothing and more- the exhibition explores the history of cochineal and the seductive visual nature of red. The objects reflect the unique international uses of color, revealing its role in the creative process and the motivations of artists in their choice of materials.
This exhibition was organized by the Museum of International Folk Art, Santa Fe, New Mexico, USA, and made possible by the generous support of the National Endowment for the Humanities and circulating through GuestCurator Traveling Exhibitions.
Image Credits: Sebastian Lopez de Arteaga, St. Michael and the Bull, c. 1650. Denver Art Museum Collection: Collection of Frederick and Jan Mayer, 1994.27.