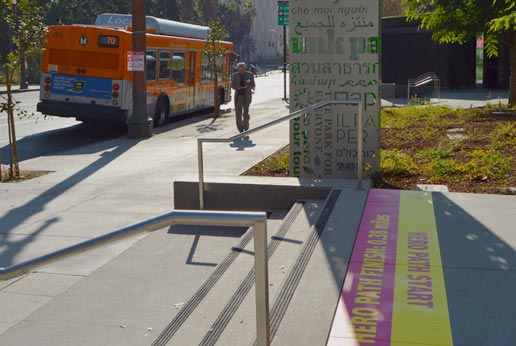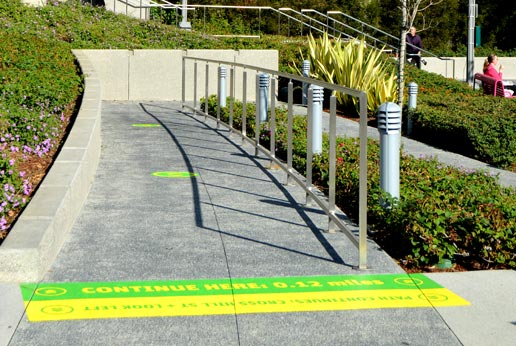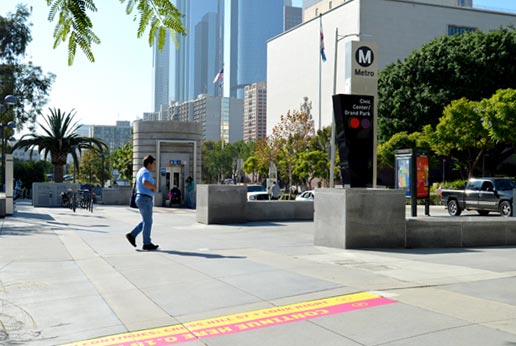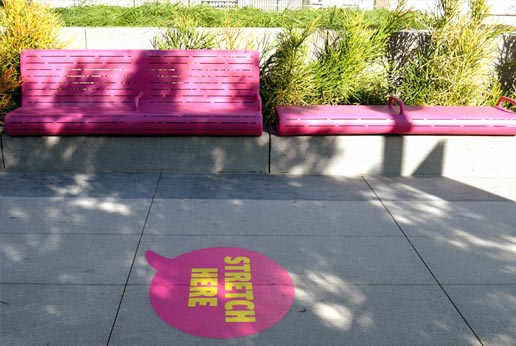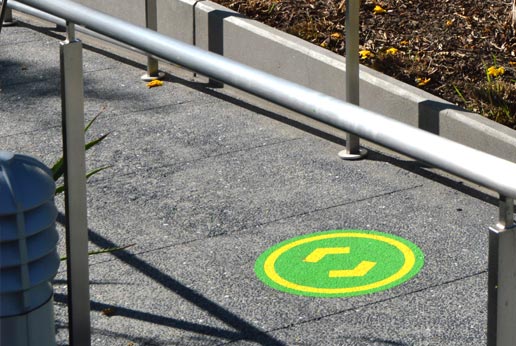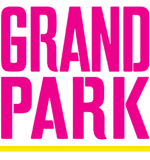 Innovative walking path graphics by AGMedia help walkers get into shape in Grand Park, Los Angeles
AGMedia, one of California's leading outdoor advertising companies and industry leader of light pole banner advertising in Los Angeles, worked with The Music Center Grand Park team on a new initiative to encourage walkers to use the park as a way of getting into shape.AGMedia Sidewalk Graphic Film was specified for the project, due to the excellent print performance, durability, smooth matte non-slip finish and micro-fracture technology allowing the graphics to adhere to the different surfaces of the walking paths in and around Grand Park.
Robert Davis, AGMedia sales director commented, "We are known for our innovative approach to outdoor advertising; this project was a perfect example of innovation with AGMedia and The Music Center working together. The installed graphics not only look fantastic but provide two great paths to encourage walkers to visit Grand Park and to help them get into shape."
The Music Center Grand Park team defined two distinct walking paths for the park, and AGMedia produced and installed over 20 images and 150 individual graphics forming a breadcrumb trail, which walkers can follow around the park.
Tati Simonian, Grand Park marketing manager added, "We wanted a solution to encourage regular use of the walking paths and also a way to help people get into shape; the breadcrumb graphic trails are complemented by words of encouragement to guide the novice walker, jogger or runner on a path to personal fitness. AGMedia worked with us every step of the way, and we are delighted with the end result".
Grand Park produced a video of the new walking paths that can be seen on the AGMedia YouTube Channel: www.youtube.com/watch?v=iGrVoXm89Z0
ABOUT GRAND PARK
A vibrant outdoor gathering place, Grand Park is a beautiful public park for the entire community in Los Angeles County. With expansive green space for gatherings large and small, Grand Park celebrates the county's cultural vitality and is host to community events, cultural experiences, holiday celebrations, and many other activities that engage and attract visitors from all communities. The 12-acre Grand Park stretches from The Music Center on the west to City Hall on the east, and is easily accessible by Metro via the Red/Purple line to the Civic Center/Grand Park station. The park was named one of American Planning Association's 10 "Great Public Spaces" in the U.S. for 2013.  Working closely with the county, The Music Center is responsible for all operations and programming for the park. For more information, visit http://grandparkla.org